During the last month of October, the GEM-IN project achieved an important goal: the implementation of the pedagogical activities using the "GEM-IN You Win" board game and learning materials developed within the project, for the first time in Portugal.
The implementation took place at the School Cluster Irmãos Passos, the School Cluster of Ferreira do Zêzere and at the Secondary School of S. Pedro da Cova, through the support of Associação Social Recreativa Cultural Vai Avante. For four weeks, school partners and organizations managed to facilitate 24 game activities, bringing together 118 youngsters and 15 professionals specialized in the field of young people´s education. In November, there will be ongoing implementation activities in the Professional School of Esposende.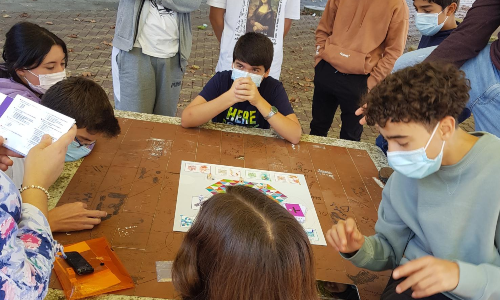 The feedback provided by young people and educators implementing the game in classrooms and leisure time has been very positive and the board game is reported to be a strategic and useful approach to the subjects of interculturality, citizenship, human rights and European social values. The implementation of the board game in a real learning context has been a great opportunity to receive recommendations and suggestions, which will be analyzed and discussed jointly with partners implementing the game in Italy, Cyprus, Austria and Greece.
The final version of the board game and pedagogical kit will become available on the project´s website and will be accessible to any professional and organizations who wish to use the materials. Would you like to know more about the Digital Archive? This is a support tool of the game, gathering all the questions and answers which are divided into thematic categories. At the moment, all the materials are available in English but will soon become available in other European languages.